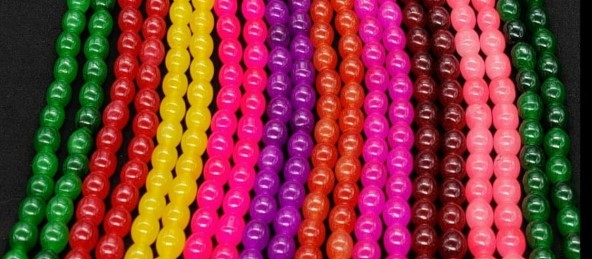 Glass beads have been a popular material for creating jewelry for centuries. These small, vibrant and versatile beads are manufactured by melting and shaping molten glass into various shapes and sizes. The process of making glass beads is both an art and a science, requiring a combination of technical skill and creativity.
The trading of glass beads is a global industry, with beads being produced and sold around the world. Glass beads are used in a variety of jewelry and craft projects, including bracelets, necklaces, earrings and more. They come in an array of colors, sizes, shapes, and designs, making them a versatile choice for both professional jewelry makers and hobbyists.
When it comes to buying glass beads for artificial jewellery, it's important to find a supplier that offers both quality and affordability. That's where Navrabeads comes in. As a wholesale supplier of glass beads, Navrabeads offers an impressive selection of beads at unbeatable prices. Their beads are made from high-quality materials, ensuring that they are durable, long-lasting, and retain their beauty for years to come.
One of the benefits of shopping at Navrabeads is their commitment to customer satisfaction. They understand the importance of providing the best possible shopping experience and strive to make it easy and convenient for their customers to find the glass beads they need. Whether you're a professional jewelry maker or just looking for glass beads for a DIY project, Navrabeads has you covered.
In conclusion, if you're looking for high-quality glass beads for your jewelry making or craft projects, look no further than Navrabeads. With their exceptional quality, affordable prices, and commitment to customer satisfaction, they are the best choice for all your glass bead needs.